June 2021 
You are in a long Scandinavian winter wondering where Summer could be.
Then you're in the blistering California heat wondering when Summer might give you a break.
Our pleadings to Summer fill a lifetime and span the spectrum. 
Sooner or later, each of us is bowing down in deference to that which is beyond us. 
Summer - like the whole of nature - can do what she wants. 
The new single "Summer (She Can Do What She Wants)" from To Wake You is a catchy, hummable tune about all of this, with a steady beat to tap your feet to, and a delicious sonic landscape of harp and guitars to lose yourself in. 
"Summer (She Can Do What She Wants)" is the latest chapter in the musical marriage between Denmark's Karoline Hausted and California's Mark Davis (Hausted, a Danish Music Award nominee for her song Alarm and Davis, receiver of an Album of the Decade award for You Came Screaming from The Los Angeles Times). It was recorded in San Luis Obispo, California before the couple managed to hop over the Atlantic to spend the pandemic year working on a new home in Denmark. Final touches and mixing were then completed remotely with engineer Damon Castillo of Laurel Lane Studios. 
And so, as an expression of the coming together of California and Scandinavia, and as a celebration of nature's beauty and mystery, To Wake You brings you "Summer (She Can Do What She Wants)". 
This is a stand-alone single release, coming between 2017's 6-song EP "Beauty In The Smallest Things" and the live-in-studio album "Winter and the Sacred Tree," scheduled for release November 2021.
June 2020
 We are sending you all inner peace and health through this unimaginable circumstances we all find ourselves in: staying physically away from each other in order to take care of one another. As with everyone, plans and habits of living have been upended, and we're breathing day by day through the ongoing feelings of shock, fear, gratitude for loved ones, seeking that place of calm in the storm. May this calm be yours. Yes, all of our March through June concerts are now postponed, along with our travel plans. Several concerts are already rescheduled either for later this year or for next year. The next ones on the calendar right now are in August in California. Our calendar will be updated as changes are made.  In the meantime, some new creativity is creeping in (what else to do with the time?!). Read on...
Mark's New Song and video "Room By Room" is now out!
Says Mark: "One morning in the summer of 2019, I had woken up caught in a wave of panic at the state of world affairs - in particular, my own country, the US, and the terrifying path it appeared to be taking. I felt both responsible and powerless. I knew I was not alone in the feeling. Writing the song was a reminder to myself that I cannot in fact take on the whole world myself- or better said, that the primary way to affect my world is to keep my own center, my own 'inner fire,' alive and well. 
"I felt it was important to get the song out there in early 2020 and had already planned on a spring release- I also already had the idea of creating a video collage of various people with candles to go with it. When the Covid-19 crisis hit, a new dimension was added to the song that I had never intended, and my invitation for folks to share clips of themselves took on new meaning. We each have found ourselves self-isolating in our own 'rooms,' hopefully tending well to our well-being and aliveness, in anticipation of the light of day returning." 
Go to Mark's page here to watch the video or purchase the song.
A new Shadowlands song, "Not Alone"
While sheltering in our separate homes, Karoline and Mark wrote music to some words Wendy Liepman sent us, recorded our parts at home and had Wendy and Bob Liepman record their vocal and cello at their place. We hope it brings you some solace in these times.
A To Wake You song from home, "At The Heart Together" 

We were emotionally touched by the sharings of several friends at the beginning of the lockdown and out came the song "At The Heart Together." We made a quick recording of it from our home for you.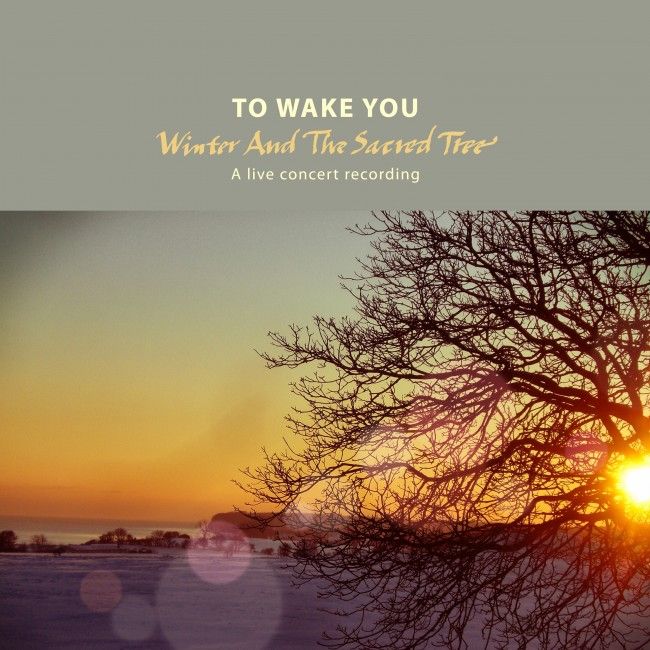 Winter and the Sacred Tree CD
Released January 2019
Our new CD "Winter and the Sacred Tree - A live concert recording" is here!  The package includes a 12-page booklet with our personal song notes, lyrics and a very special introduction written by Therese Schroeder-Sheker.  You can read more about the project at our Winter and the Sacred Tree page.
The album will only be available on CD for now- with a digital release planned for later on. The CD can be ordered directly from us by writing to towakeyou@gmail.com. 
In San Luis Obispo, CA, it's also available from Boo Boo Records. 
And of course you can get it at our concerts. See all live dates