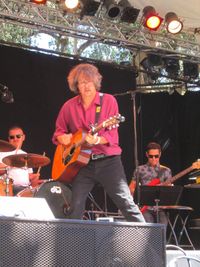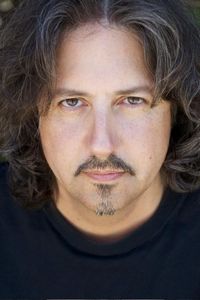 MARK DAVIS/MARK DAVIS & THE INKLINGS
"Getting at large truths with songs full of human-scale detail and unsentamentalized beauty.  - Los Angeles Times 
"Davis is truly a master of his craft… able to lift spirits even while supporting the weight of the world." - Orange County Register 
Mark Davis, long recognized as one of Southern California's most passionate and lyrical artists, gathers inspiration from sources both personal and universal, from the simple moments of daily decisions to larger questions of faith and love. 
Musically, Davis' hallmarks are a strong, memorable melody, placing him in a territory reminiscent of George Harrison or Crowded House, yet also a love of atmosphere, mood and sonic layers, conjuring shades of Radiohead or the Flaming Lips.  
The new single, Room By Room, is a simple hymn of hope for our times.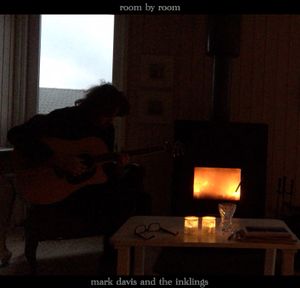 Says Mark: "One morning in the summer of 2019, I had woken up caught in a wave of panic at the state of world affairs - in particular, my own country, the US, and the terrifying path it appeared to be taking. I felt both responsible and powerless. I knew I was not alone in the feeling. Writing the song was a reminder to myself that I cannot in fact take on the whole world myself- or better said, that the primary way to affect my world is to keep my own center, my own 'inner fire,' alive and well. 
"I felt it was important to get the song out there in early 2020 and had already planned on a spring release- I also already had the idea of creating a video collage of various people with candles to go with it. When the Covid-19 crisis hit, a new dimension was added to the song that I had never intended, and my invitation for folks to share clips of themselves took on new meaning. We each have found ourselves self-isolating in our own 'rooms,' hopefully tending well to our well-being and aliveness, in anticipation of the light of day returning.
"The humble video result is a cobbling together of various homemade shots from around the planet, including my own. From my "room" to yours - with deep gratitude to the bright ones who contributed clips to the making of this little film, and to all those involved in the making of the record."
Room By Room is now also available on streaming platforms like Apple Music, Spotify, etc.
_______________________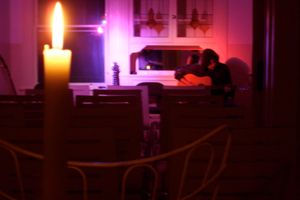 MARK DAVIS BIO
Mark first garnered attention as a singer-songwriter from fans and critics in 1990, during Southern California's highly acclaimed Nu-Folk Scene. After growing tired of striving for the mythical "brass ring" of a major record deal, Mark decided to create a collection of recordings for his liking alone.  Thus was born the 1995 release You Came Screaming, graced by several talented contributors, including the late-great guitarist Duane Jarvis (Lucinda Williams, Frank Black), guitarist and singer Andrew Williams (Williams Brothers, produced Peter Case). You Came Screaming received astounding praise, including being named by Los Angeles Times as Album of the Year and Orange County's #1 Album of The Decade. 
Mark's second release, Immaculate, came in 2001, was created with the collaboration of guitarist/engineer Matt Walin, bassist Al Wolovitch, drummer Monte McConnell, and guitarist/co-producer Casey Dolan. It is a more electric and experimental work than You Came Screaming's dreamy song-cycle. 
Further into the 2000's, Mark began what would be a handful of collaborative projects with other songwriters. The first of these was Big Wide Room, with David Zink and Brett Perkins, which involved regular tours on the house concert scene and culminated in the release of their CD, Infinite Distance. 
2010's Because There's Nothing Outside sonically solidified Mark's meeting of the classic songwriter with an edgy experimentation. It is an intimate and personal album about belief and questioning and the music pulls the listener into this territory with beauty and tension. In a universal sense, it tells a story of someone breaking out of a prison, out of an identity they've been squeezed into, and can no longer tolerate. This was the first release put out under the name "Mark Davis and the Inklings"- (the Inklings came from a group of writers that used to meet once upon a time to share creative ideas, including JRR Tolkien and CS Lewis). Adding the name, which had also been used in the early 90's, was now also a means of distinguishing Mark's offerings from some other "Mark Davises" that were appearing with their own releases. 
2011 also marked the beginning of a powerful partnership (musical and otherwise) between Mark and Karoline Hausted, a songstress-extraordinaire from Denmark. Together they moved to California's Central Coast, and quickly found themselves joining forces with another central coast couple, Bob and Wendy Liepman of "Bob and Wendy," to form Shadowlands, releasing the beautiful and very well-received Shadowlands album in 2015.
2016's From Back of Beyond, consists of a live-to-2-track session Mark and band (including Duane Jarvis on guitar, vocals and mandolin) recorded in one long day at The Control Center in Hollywood back in 1991... Duane had long talked referred to the session as a "record" and, indeed, those recordings had created quite a "buzz" on the LA scene back then. After the tragic passing of guitarist Duane Jarvis, Mark decided to put it out as an official release, adding a couple of new recordings of Davis/Jarvis co-written songs, recorded with Duane's brother, Kevin, and using Duane's own guitars.
Mark and Karoline Hausted's offerings together as a duo are released under the name To Wake You, and include Beauty In The Smallest Things (2017) and the latest, Winter and the Sacred Tree (2019- CD only so far). Infused with the distinguished talents of the two, this is dreamy, romantic music with hypnotic, introspective, heart-opening qualities. 
Feel free to dive into all of the above music below!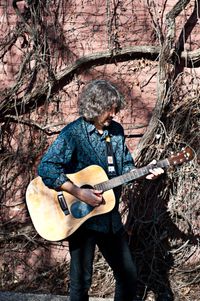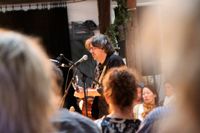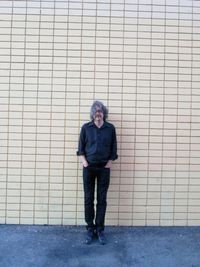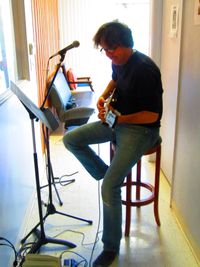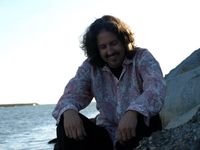 https://markdavisinklings.bandcamp.com/
Mark Davis/Mark Davis and the Inklings releases:  
You Came Screaming (1995) 
Immaculate (2000) 
Because There's Nothing Outside (2010) 
From Back Of Beyond (2016) 
Collaborations:  
Infinite Distance  (2013)- BIG WIDE ROOM
Shadowlands  (2015)- SHADOWLANDS
 https://music.apple.com/us/album/shadowlands/958358161
Beauty in the Smallest Things (2016) - TO WAKE YOU
Winter and the Sacred Tree (2019) -TO WAKE YOU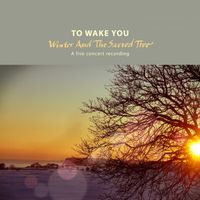 The "Winter and the Sacred Tree - A live concert recording" is currently available on CD only, as a special package which includes a 12-page booklet with personal song notes, lyrics and a very special introduction written by Therese Schroeder-Sheker.
It can be ordered directly here:  Order CD.  In San Luis Obispo, CA, it's also available from Boo Boo Records.
And of course you can get it at our concerts. See all live dates.